Yes! From Abu Dhabi all the way to Berlin!
ADMAF, the foundation that organized and hosted "Portrait Of A Nation" show back in 2016 in Abu Dhabi, has transported the same show all the way to Berlin to be part of Berlin Art Week 2017. Over 20 participating artists including myself have been invited to inaugurate the opening of the show at Me Collectors Room, which is an exhibition space for private art collections of Olbricht Foundation + a cafe.
The exhibition showcases a variety of works by 50 Emirati artists from all different generations, under various themes including: Nation and Unity, Geography and Nature, Architecture and Urbanism, Portraiture and Identity, Religion and spirituality, Language and Calligraphy, and finally Tradition and Heritage. My installation piece titled with "Her Patterns" is part of the commissioned projects. A blog post on the piece can be found here.
List of the artists who joined the trip includes: Ali Al Abdan, Sarah Al Agroobi, Sarah Al Ahbabi, Ahmed Al Areef Al Dhaheri, Ammar Al Attar, Khalid Al Banna, Ahmed Al Faresi, Eman Al Hashemi, Saeed Al Madani, Mohammad Al Qassab, Azza Al Qubaisi, Hamdan Buti Al Shamsi, Hind Bin Demaithan, Mohammed Ahmed Ibrahim, layla Juma, Mohammed Kazem, Najat Makki, Mohammed Mandi, Abdul Rahim Salem, khalid Shafar, Obaid Suroor, Khalil Abdul Wahid, and myself, with Nasir Abdullah - the UAE Fine Art Society manager - being the special guest for this trip.
The 5 days trip consisted of being present at the gallery, engaging with the visitors and the media, and visiting cultural spaces. I went two days ahead of the group in order to install my piece at the gallery with the amazing installation team (picture below), which gave me an extra time to discover more about the city and the area around me. Upon the arrival day of the artists we had a welcome dinner at the hotel which allowed us to introduce ourselves and get to know each other more. It was a very pleasant gathering indeed.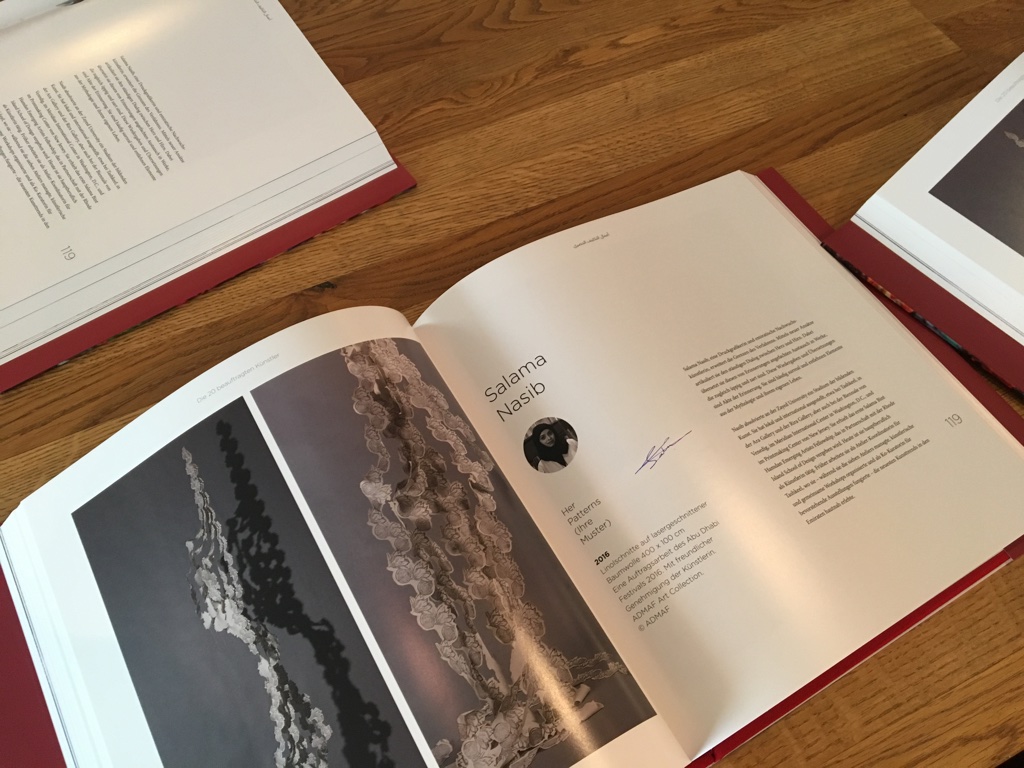 Her excellency Huda Al Khamis Kano inaugurated the preview of the exhibition for journalists from Berlin Art Week, as well as the private view opening on the next day alongside UAE Embassy to Germany. Her excellency gave a very sweet talk mentioning the strong bonds between the two unique art scenes, and how this show is setting a stepping stone for something of a huge potential and benefit. While going around the show and taking a photograph with each artist, she kept on advising and encouraging us to keep on producing, on creating, and on grabbing every possible opportunity that we stumble upon. I found that to be a very kind and sweet thing to do. Bless her efforts and continuous support to the art scene in the country (and abroad!). We were also invited to the UAE Embassy in Berlin for a lunch gathering, hosted by HE Ali Abdullah Al Ahmed's wife. It wasn't part of the itinerary but the embassy generously offered to host us upon our arrival so that was very kind of them. Berlin Art Fair was included in our schedule and pictures above show the fair.
As for the cultural visits, they included various historical buildings as well as museums and collector's spaces including: the German Parliament (Bundestag), Bahnhof Museum, Julia Stoschek Art Collection, and Boros Art Collection. I really enjoyed visiting the private collector's spaces and learning about the journey the owners had to go through in order to become the collectors they are now. Made me realize as well how much UAE is lacking on this end in the hope it progresses positively in the next coming years. As for the German Parliament, I would recommend visiting it indeed considering how much they invested in the display of art and commissioning artists to produce works specifically for the venue relating to the history of the nation. Some of these artists included Gerard Richter and Antony Gormley, and of course Sir Norman Foster as the architect behind the Dome of the Bundestag (which symbolizes the unification of Germany).
Other things that took place and were part of the itinerary included hosting workshops at the exhibition venue by Azza Al Qubaisi and Sarah al Agroob, and a talk on Identity by Saeed Al Madani. Our farewell lunch took place at Arabesque Syrian restaurant which served amazing food to be honest with lovely hospitlity so definitely pay them a visit and support their business. We celebrated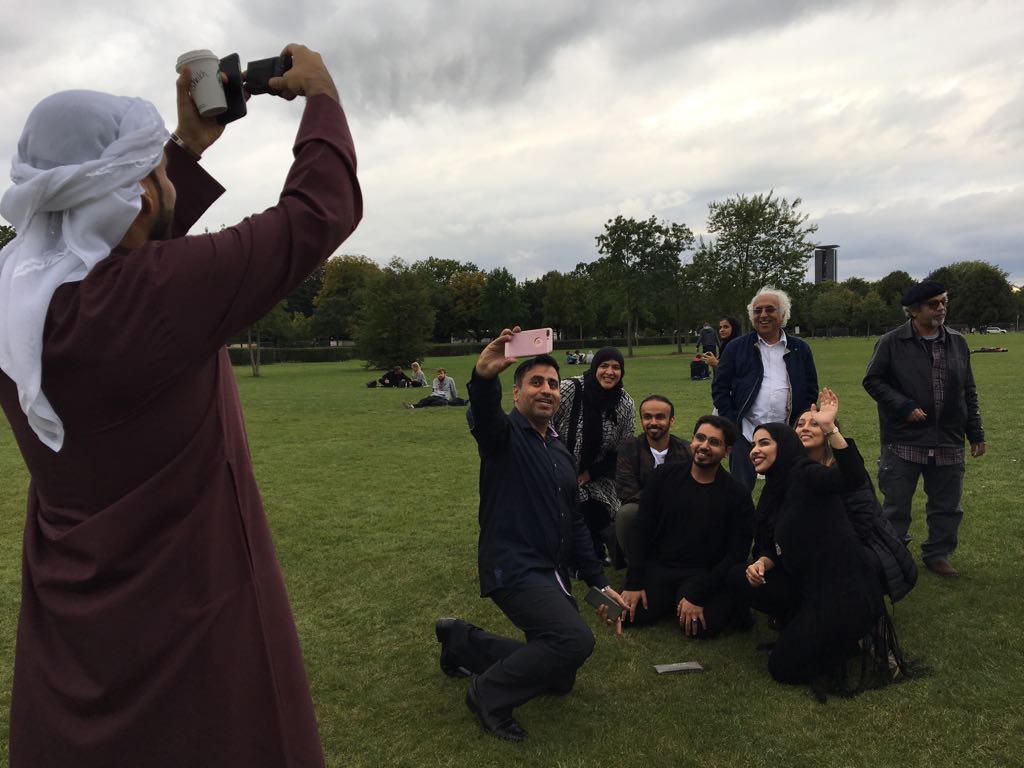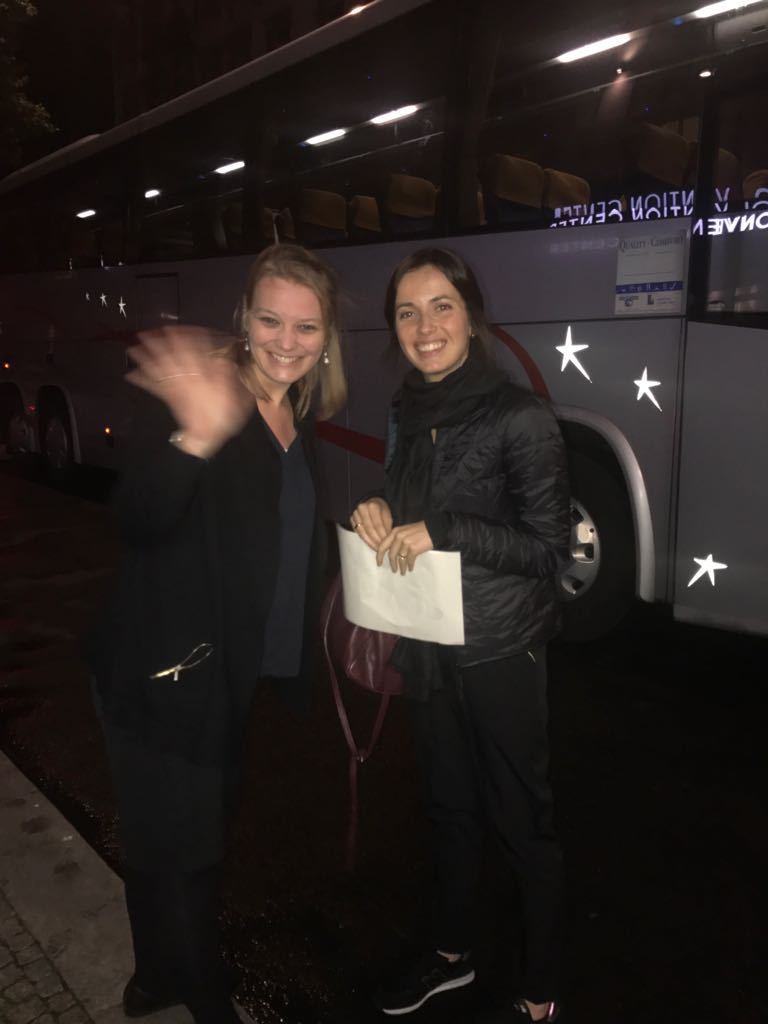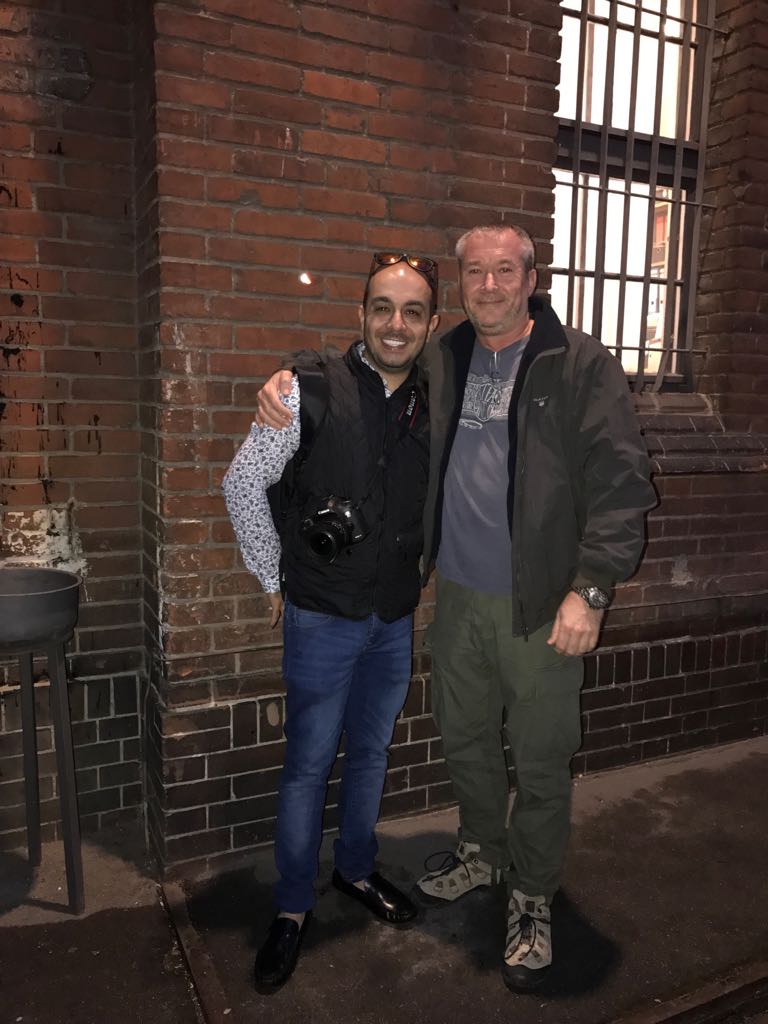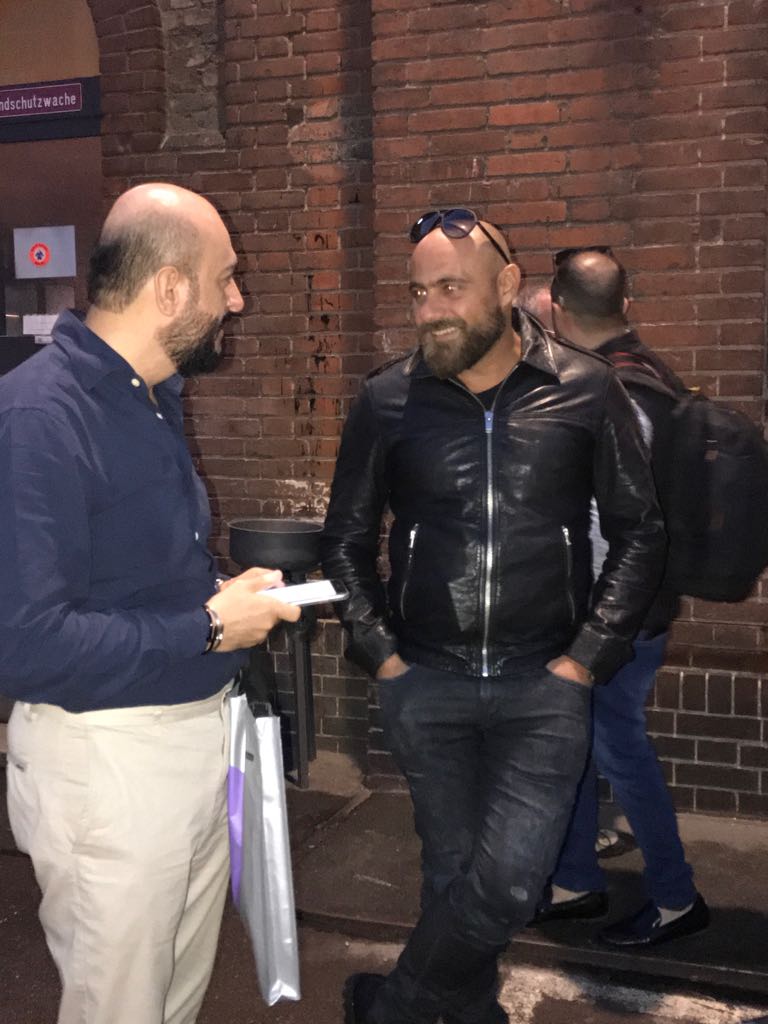 Of course aside from our busy itinerary and scheduled visits, we were gathering mostly in the evenings and having dinner together. We shared a lot of special moments together bonding, talking, and even discovering the city together. I am truly blessed to be amongst these amazing artists, and inshAllah more trips and projects to come in the future.
Thank you ADMAF, once again, for this beautiful experience.
The official press release can be found here. All image are courtesy of ADMAF, Ammar Al Attar, khalil Abdul Wahid, and myself.
Enjoy.